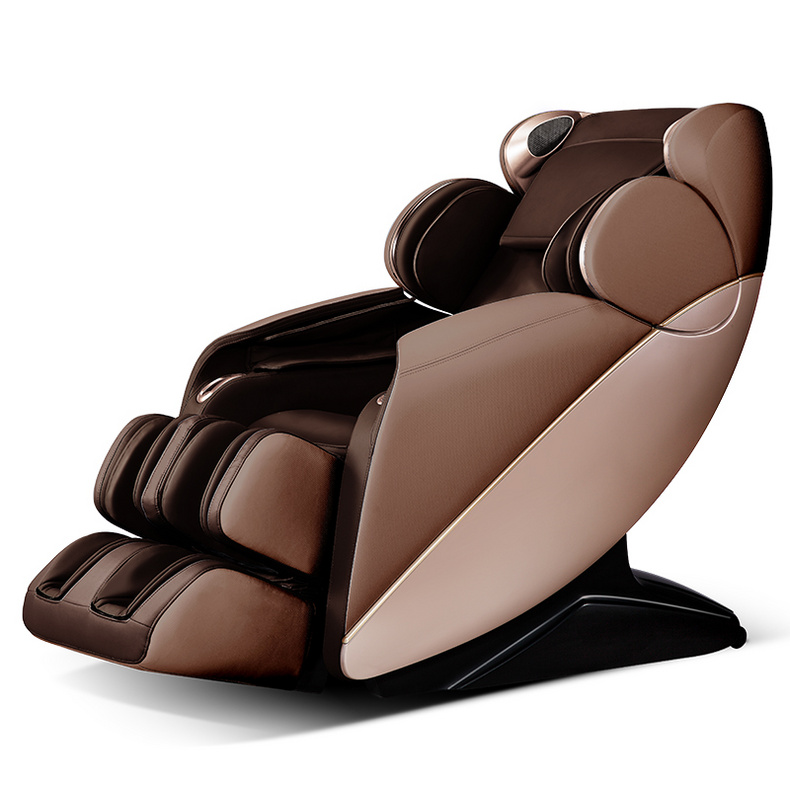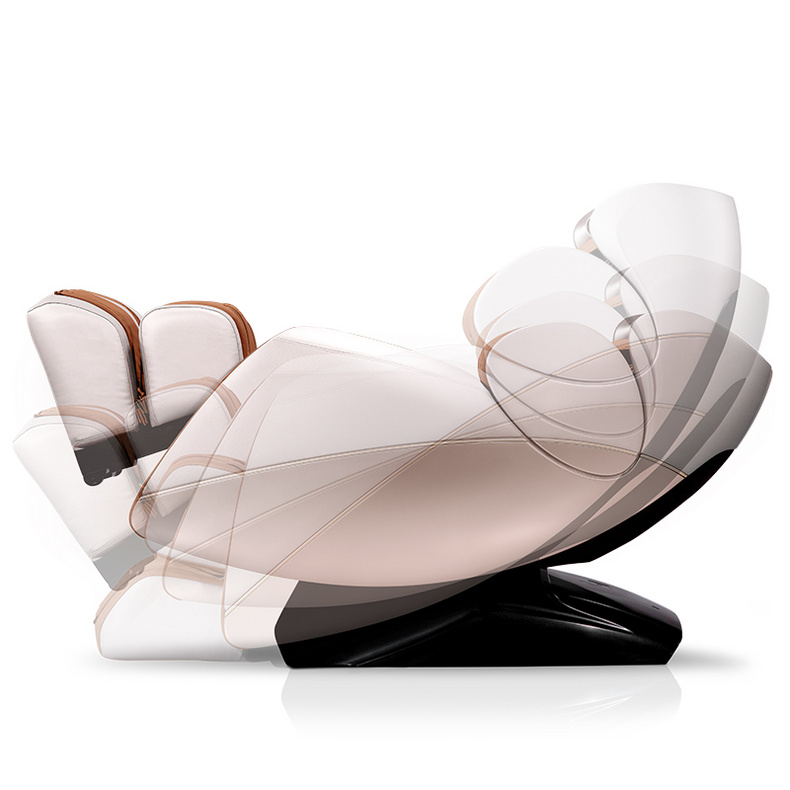 Product Details
A. Designed with a set of vertically movable, four wheel driven muted intelligent massage
B. There are five kinds of simulated massage techniques: shiatsu, kneading, tapping, knocking, kneading and tapping.
C. Shoulder position automatic detecting.
D. Eight characterized auto massage function: fast experience, comfortable, relax, ease ache, fatigue relieving, vertebral care, stress relieving, waist stretch.
E. Two memory functions: program memory Ⅰ, program memory Ⅱ.
F. The upper half manually selects the massage function; there are five kinds of massage position selections such as full, partial, fixed point, upper back and lower back.
G. Air massage function: Upper arm air pressure massage function , arm pressure massage function and five levels air pressure intensity adjustment.
H. The back heating function & leg heating function uses carbon fiber as an infrared heating source, with three temperature adjustment.
I. As the back rest reclines down, this product is built to save wall space by making the chair slide forward.
J. Combined with human back curve technology, makes you enjoy personal massage from the head to the leg.
K. Music playback system: Built-in 3D digital speaker on the left and right space capsule. The Bluetooth function of the smart device can be used to play music on a wireless connection.
L. The left armrest is provided with a switch button, raise & recline button, foot adjustment button, automatic mode button, zero gravity button.
M. Leg lifting or recline adjustment, lifting or recline adjustment of leg and back, zero gravity.
N. The footrest is equipped with an automatic sensor detection of the leg length function. When the calf is raised or lowered to a suitable angle, the footrest will automatically detect the length of the leg and detect the most comfortable massage area.
O. Roller massage function: At the bottom of foot, two pairs of mastoid rotating massage on toe root; scraping massage on the arch and heel.
P. Magnetic therapy function: Two high-energy magnets are arranged in the left and right calves; one high-energy magnet is arranged in the head cushion and the seat cushion.
Q. There are bump massage pads and magnetic therapy in the left and right palm airbags.
R. USB charging function on the right armrest.
S. Configure TFT colorful LCD remote controller.
T. The upper arm is provided with a width adjustment function, which is adjusted in two steps (when it reaches the innermost position, the arm is pushed in about one gear to release the hand, the arm is automatically reset, and so on), adapting to different shoulder widths.
U. Shutdown automatic reset function, massage head automatic reset function.
1. 本产品设计了一组能上下行走、四轮驱动、静音设计的按摩机械⼿。
2. 设有指压、揉捏、拍打、敲击、揉捏拍打同步五种仿真按摩手法。
3. 设有肩部位置自动检测定位。
4. 设有定特性化自动按摩功能:快速按摩,舒适,轻松,酸痛改善,疲劳恢复,护椎保健,压力舒缓,腰部牵引等八种自动按摩功能。
5. 设有自定义存储功能Ⅰ或自定义存储功能Ⅱ。
6. 上半身自动选择按摩功能;有全程、局部、定点、上背、下背等五种按摩位置选择; 有指压、揉捏、拍打、敲击、揉捏拍打五种仿真按摩手法;各按摩手法有五档速度 可调节;拍打、指压和敲击按摩状态下,机械手按摩球有三档宽度可调节。
7. 设有气压按摩功能:上手臂气压按摩功能、手臂气压按摩功能、背部气压按摩功能、腿部气压按摩功能、脚部气压按摩功能,五气压强度调节。
8. 设有背部热疗、腿部热疗功能:采用碳纤维为远红外热源,三档热疗温度调节。
9. 靠背架下躺采用滑轨技术使靠背离墙始终保持零空间,最大限度节约空间。
10. 靠背导轨采用曲线导轨技术,完全贴合人体背部曲线,从头部致大腿都能享受贴身按摩。
11. 音乐播放系统,左右太空舱内置3D数字⾳响。可利⽤智能设备的蓝⽛功能,进行无线连接播放音乐。
12. 左扶手上设有开关键、起坐躺卧键、脚部伸缩键、自动模式键、零重里键等五种扶手快捷键。设有小腿架单独升降调节功能、靠背架单独升降和靠背架联动升降调节功能、零重力动躺卧调节功能。
13. 搁脚架设有自动检测搁脚架力度功能,当小腿架上升或者下降到合适的角度后,搁脚架将会自动检测脚部长度,检测到最舒服的按摩部位。
14. 足部设置足底滚轮按摩功能,两对乳突对脚指根部旋转按摩;对脚弓和脚跟处乳突刮痧按摩。
15. 设有磁疗功能:在左右小腿部各设两颗高能磁铁;在头靠垫、坐垫各设一颗高能磁铁。在左右手掌气囊袋中,设有凸点按摩垫及磁疗功能。
16. 右扶手上设有USB充电功能。
17. 配置TFT彩屏手控器。
18. 上手臂设有宽度调节功能,分两档调节,适应不同肩宽的人使用。
19. 关机自动起坐功能,机械自动动复位功能。

Product Size
Product Customization & Design